25 Cool School Supplies Every Kid Will Love
We've put together a list of the best school supplies that your kids are bound to love. Here's a secret: you may be tempted to keep all of these supplies yourself.
1) Pacon Super Bright Flash Cards
Make studying a fun and easy activity with these super bright flash cards. Studying for a test or writing out research for a paper? These flashcards have got you covered. Memorization can be a hard task, make it easier by getting them the right tools! These cards are made of recyclable material and are even sturdy enough for little ones!
2) Learning Resources Multiplication Master Electronic Flash Card Game
Make multiplication fun and easy with this ingenious electronic card game. It's specifically designed to target those tricky times tables and reinforces your children's math skills over and over! Nothing beats repetitions when learning multiplication rules, and this gadget makes it engaging so your kids will want to practice. With two levels of difficulty, this game is the perfect way to hone those math skills!
3) Carson-Dellosa Color Me Bright Design File Folders Set
Organizing is fun and cheerful with these Color Me Bright Design File Folders.
A cluttered schoolbag can mean lost and disorganized school supplies, handouts and even assignments. Give your kids the tools they need to keep track of their schoolwork and stay on top of their assignments with this fun and tidy folder set. They are ideal for kids in pre-kindergarten all the way through high school.
4) Smead 24 Pocket Poly Project Organizer
This organizer is a must-have for any student to stay organized and focused on multiple projects, or a single in-depth project. This project organizer has 24 pockets to keep everything in its place. It's made of durable poly material, which is both tear-proof and water-resistant. It even includes a clear poly zip pouch on the inside, a customizable clear display cover and 12 built-in, colorful dividers to keep track of any and everything that comes your kids' way!
5) ZIPIT Colorz Carrying Cases
These matching pencil and eyeglass cases are both useful and offer a protective hard shell. Keep your art supplies and your creativity always at hand, with these colorful, lightweight cases. The pencil box holds up to 60 pens and pencils and is completely multipurpose to be used for carrying just about anything that needs to stay safely organized in place. Their polyester and nylon fabric also makes clean up a breeze with only a damp cloth.
6) Crayola Washable Glitter Glue
These amazing glitter glue "pens" let you add sparkle to any project! Your kids (and you) will love making your own, glittery art that squeezes out easily and dries in 30 minutes. They come in nine bright colors that are sure to make your kids' next school project stand out! You won't even have to deal with loose glitter getting all over your kids and their belongings – not to mention your house.
7) Decorative Bookend – Doughnut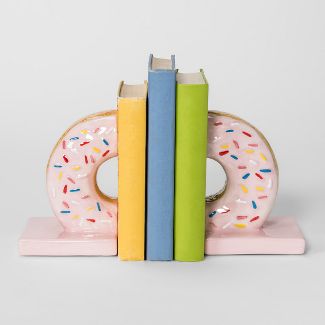 Are your kids' schoolbooks making it hard to keep a tidy room? "Donut" worry, these bookends are an adorable way to keep even heavy books standing organized in an upright position. Their fun design is sure to instill a love of books, or at least keep them tidy! Made of earthenware, these adorable donuts add a bright pop of humor to any room.
8) Post-It Notes Cat Dispenser

Make reaching for a post-it a pure delight. These cute cat dispensers are sure to tickle any kids' humor while keeping post-its easily reachable. It comes with two 3″ x 3″ pads of Super Sticky Pop-up Notes in "Rio de Janeiro" colors. It's also worth mentioning, the paper in post-it notes is sourced from certified, renewable and responsibly-managed forests. Cute and Earth-friendly, that's a win-win.
9) Kate Spade New York Insulated Soft Cooler Lunch Tote
Admittedly, this Kate Spade Strawberry lunch box is a tad on the "fancy" side, but who ever said that was a bad thing? It's made up of a coated-linen exterior and an insulated interior that is both efficient and easy to clean. It might just be the perfect lunch box for your fashionista-in-training, but we won't judge if you want to keep it for yourself!
10) Fred and Friends Maki Tacks Sushi Pushpins and Holder
Maki Tacks are made for your "raw" amusement – and also to keep any pinboard organized and tidy. This set includes 50 pushpins, all kept in a clever sushi-shaped holder, which can double as an eraser! Altogether this gives the look of a fish roe sushi roll that, quite frankly, looks good enough to eat. Guaranteed to bring cheer and a smile to your kids' face, while making it easy to keep sharp pins safely tucked away.
This is the perfect pen/pencil case for any budding artist or design lover. It's uniquely made to unfold flat onto a table and make your favorite art supplies easily accessible. This popular style fits a very large capacity into a seemingly small frame. It easily lets your kids store and organize supplies such as rulers, erasers or tape.
12) https://www.amazon.com/dp/B071GXMWZM/
Raising a plant lover? This cute set of cactus pens will make taking notes and writing homework assignments a fun activity! Well, at least we hope they'll help. This set comes with 12 pens that are sure to become your kids' favorites.
13) Acmer Cute Cartoon Animal Bear Two-Holes Pencil Sharpeners
Remember having to stand up in front of the entire class to sharpen your pencil during the worst possible time? Well, these little cartoon bear pencil sharpeners are as cute as it gets, and they'll ensure you're little one won't have to suffer the same fate. This is a perfect solution to broken pencils during tests. They're portable and adorable, making an excellent addition to any student's arsenal. Did we mention they come in a set of eight?
14) Herschel Supply Co. Packable Daypack Backpack
The backpack is arguable the most important item on this list. Just ask any kid, a cool backpack is a must-have, and there's possibly no cooler bag than this one from Herschel Supply Co. Its unlined design weighs only 13oz and collapses into an interior pocket for easy storage. With both style and quality, this bag might stay with your young ones for quite a while.
15) Master Lock 1535DWD Locker Lock Set Your Own Word Combination Padlock
Protecting your kids is no joking matter, and that extends to your kids' belongings as well. That's why this Master Lock is made of hardened steel that offers added resistance to cutting and sawing. It also doesn't hurt that it has an attractive design that's super easy to use, and comes with a Lifetime Warranty from a trusted reputable brand. Your kids will be able to set their own, easy-to-remember code.
16) BIC Wite-Out Brand Mini Twist Correction Tape
Don't sweat the small mistakes, and let your kids erase errors with ease. This BIC Wite-Out comes in a convenient mini size, perfect for making easy corrections to homework or tests. This pack comes two mini dispensers, each containing 26.2 feet of white correction tape!
17) Mr. Pen- 15 Pcs Geometry Set for Students
Having the right tools can make all the difference when it comes to schoolwork. This geometry set includes 15 pieces of geometry tools which include: a compass, protractor, pencils, pencil sharpeners, mechanical pencils and more. Basically, it's everything they could ever need in a geometry class. Make calculations fun and easy with the right quality tools.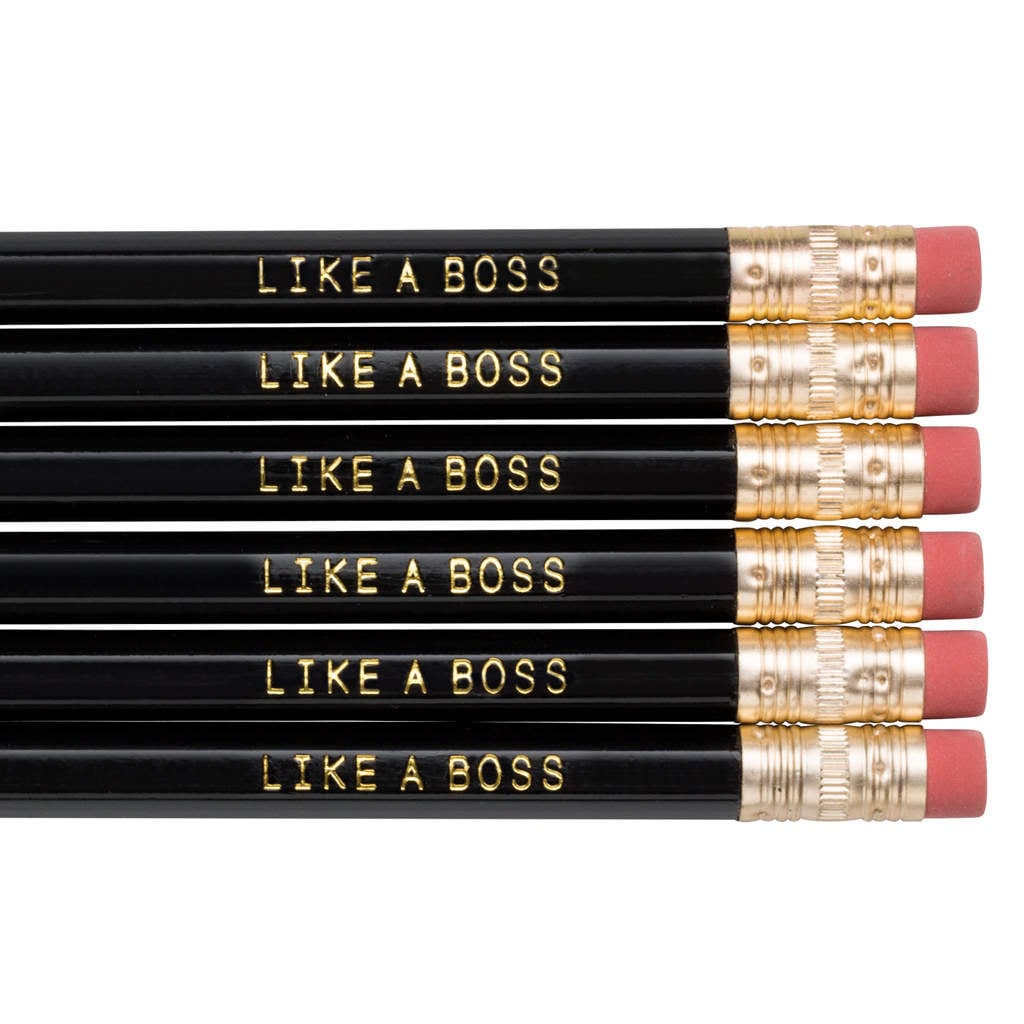 These no. 2 pencils are a staple for any student, but with an added "bossy" message to boot. The "Like A Boss" message added to each of these will fill your kids with confidence at each glance. Who wouldn't want that sort of added boost during finals week?
19) Stackable Crayons for Toddlers
These crayons are ideal for toddlers from the age of 2 all the way to 9 year olds. The fun stackable design and non-toxic edible material make them the ideal learning tool for toddlers and young kids alike. They're also super easy to clean so you don't have to worry about any messes for too long.
20) HOMESPON Reusable Lunch Bags
Say goodbye to single-use lunch bags. These reusable ones are easy to clean, BPA free, and have durable insulation for keeping your food fresh all day. It's roomy enough to hold a water bottle and multiple containers at the same time.
Did we mention they're also extremely stylish?
21) iEGrow Flexible USB Touch LED Desk Lamp
This ethereal LED desk light is rechargeable and offers up to 15 hours of light. That means your kids can get their homework done under a soft light that isn't harsh to their eyes. This beautiful plant design comes complete with a 3-level dimmer and a plant pencil holder. We think it's the perfect way to lighten up any homework situation!
22) Crayola Silly Scents Scented Markers
This set of 12 washable, scented markers is a multisensory experience in one product. Your kids can create art that smells as good as it looks! With scents like Cotton Candy, Fruit Punch and Root Beer these are sure to keep your little ones, or even not-so-little ones occupied for hours. After all, there's no greater skill to instill than that of imagination.
Let your kids do their homework or reading just about anywhere in the house thanks to this comfortable cushioned lap desk. It's perfect for turning the couch into a study area or adding desk room in a limited space. It's also perfect for laptop use for electronic assignments or those that need to be typed.
24) Do-Over Erasable Highlighters
This adorable set of six highlighters, not only allows your kids to distinguish important information, but they are also erasable! This might just be jealousy talking, but where were these when we were in school?
25) Beeswax Reusable Sandwich Wrap
It's no secret that the kids are the future, so why not let them start caring for it with these reusable sandwich wraps. They are handmade in Vermont from natural cotton and infused with beeswax, jojoba oil, and tree resin, which are naturally antibacterial and form a moisture-resistant seal around your food. They even double as a placemat while your kids eat their lunch! Here comes the best part, you can wash and reuse these again and again!