What is Green Monday & How Did It Start?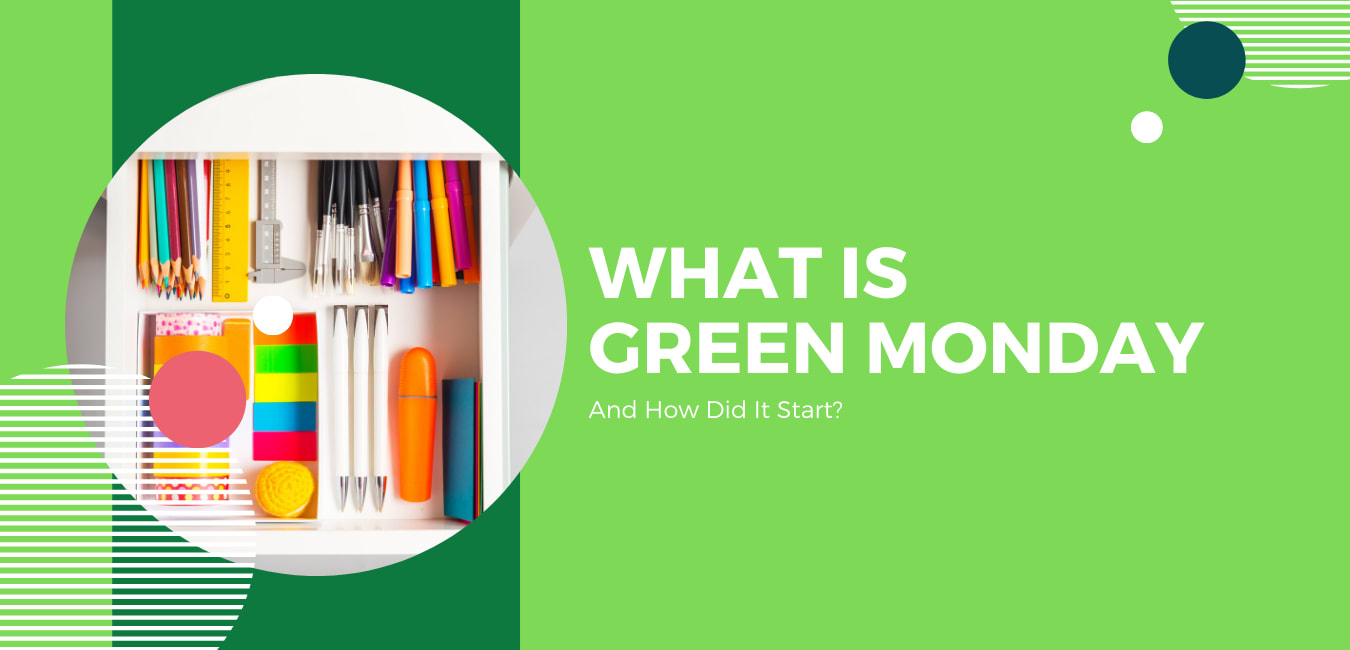 While just about everyone has heard of Black Friday and Cyber Monday, most people are not familiar with their eco-friendly cousin, Green Monday.
Green Monday is an online shopping event, similar to Cyber Monday (no they are not on the same day or same month for that matter) that has sales comparable to those of Black Friday and Cyber Monday. For those shoppers that didn't take advantage of the sales on Black Friday or Cyber Monday and are still looking for a bargain, Green Monday is your chance to take advantage of big savings.
The event falls on the second Monday in December. Similar to Cyber Monday, the benefits are really aimed at online shoppers, however, some retail stores may get in on the fun as well.
Since Green Monday is still gaining recognition, some smaller websites may not participate in the event.  However, big online retailers like Amazon and Walmart participated in Green Monday 2018 and will continue to participate.
How Did Green Monday Get Its Name?
Green Monday was originally started in 2007 by eBay. It's also speculated that shopping.com may have coined the phrase around the same time period. Regardless of who originally coined the term, Green Monday has been growing in popularity each year.
You may be surprised to find out that the term green is not simply synonymous with eco-friendliness in this case. The true meaning of "green" actually relates to money. In this case, it's both the money that retailers will make due to the sales as well as the money shoppers will save.
There is an eco-friendly aspect to the sales day as well, but it's more so due to shoppers not having to drive to stores and shopping online instead.
Why Did Green Monday Start?
In 2007 eBay realized that the first two weeks of December was an especially profitable time period. After doing some internal research, they realized that the second Monday in December was the last day that shoppers were able to place an online order that would arrive in time for the holidays.
In an attempt to capitalize on all of the last-minute holiday shopping, eBay decided they would start their own shopping holiday.  In recent years, many online retailers like Amazon have begun offering much faster shipping options, however, the name has stuck.
What's The Difference Between Green Monday and Cyber Monday?
Ellen Davis, who is the president of the NRF (National Retail Federation) is credited with coining the term "Cyber Monday" during the 2005 holiday season as the online shopping answer to Black Friday. Cyber Monday falls on the first Monday following Black Friday.
Currently, Cyber Monday is now considered to be the busiest online shopping day of the year. Similarly, Green Monday is considered an online shopping day as well, it just gets less recognition. So in reality, the biggest difference between the two events is really just how many people are in "the know". Another big difference between the two events is how many retailers take part in the Green Monday sales.
However, if you're still behind on your holiday shopping, the second Monday of December should not be slept on. Green Monday sales have increased more than 100% from $800 million in 2007 to well over $1.6 billion in recent years. With online giants like Amazon taking notice of the event, smaller online retailers are sure to follow suit.
Green Monday Deals
If you missed out on the Black Friday and Cyber Monday events, don't worry! The right Green Monday offer can save you 50% or more on your gifts. Online retail giants like Amazon, Walmart, and Target all offer sales events.
Even if you're not a last-minute holiday shopper, you still may be surprised at the various online sales and Green Monday deals you will find at your favorite online retailers.
The deals will be everywhere if you look for them, but to make your job a little easier "https://blackfriday.com/" is a site that will help filter out the best deals from the retailers you love most! It gives you a history of sales they had last year so you can anticipate what kind of sales to receive this holiday season.
If you're looking to stock up on office supplies, office furniture, printer supplies, or anything else for your office or small business, make sure to check out the deals on OfficeCrave.com.
Green Monday Sales
For those shoppers that are looking to save a little extra "green" on gifts this holiday season, here are a few great online sales to take a look at.
So now that you're in the know, make sure you don't miss out! Mark it down on your calendar, set a reminder on your phone, and tell all of your friends to take advantage of the deals, sales, and savings on the second Monday of December! And if you're looking to stock up on office supplies, office furniture, or office organization supplies for your business, make sure to check out our huge collection of products.