Lessons Learned From Shopify Dropshipping Stores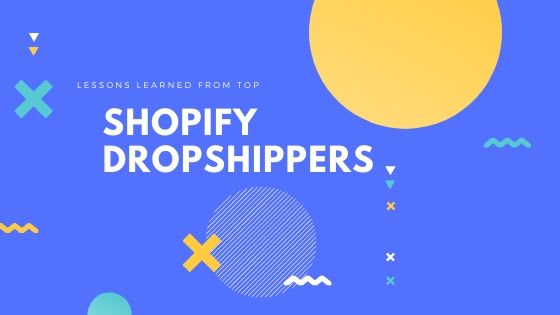 There is no denying that dropshipping has become one of the most popular business models for online entrepreneurs in recent years. When you consider the low start-up costs and the fact that you're not going to need to handle products directly, it is not hard to see why an increasing number of people are turning to Shopify dropshipping as a career.
However, just because some of the barriers to entry may be lower does not mean that your success is guaranteed.  Just like in any other business, it's always a good idea to look at your competitors to try and reverse engineer their success.
Today we're going to look at some of the top dropshipping stores on Shopify and breakdown the strategies and tactics that they have used to achieve dropshipping success.
Don't Rely Exclusively On Supplier Images & Descriptions
Two of the most important assets in any e-commerce store will be product photos and product descriptions. If your products don't look good, and customers aren't enticed to buy them, it's highly unlikely that your Shopify dropshipping enterprise will be successful.
While many dropshipping vendors will provide their users with plenty of product photos and product descriptions, this information is typically shared with every drop shipper in their program. By using the same photos and descriptions that hundreds of other drop shippers are using, you're putting yourself at a disadvantage.
For example, let's take a look at BlueCrate.com, a very popular Shopify dropshipping store. BlueCrate carries many of the same products as their competitors but does an excellent job of making their products more attractive to customers. One of the ways that they do this is by not relying on the product images they receive from their suppliers.
Instead, they create their own professional product images in-house. If you take a look at their media assets, you will immediately notice the difference.
Not only this but BlueCrate has gone one step further and they have created their own videos too. They share these videos on their Facebook page, Youtube account, and on the product detail pages of their website.
Their effective use of social media teamed with their original photos and videos has made BlueCrate a great success, and this is something you should definitely consider replicating at your own dropshipping business.
Offer Quantity Price Breaks
Another great way to make more sales and become more profitable is by offering quantity-based discounts. Simply put, this involves giving customers a lower "per unit" price when they buy products in higher quantity.  Shopify makes this easy to do with its Quantity Breaks feature.
Since you do not have to worry about inventory levels or shipping & logistics, the real name of the game in dropshipping is sales volume.  By giving your customers an opportunity to save more money by buying in greater quantity, you're still creating more profit for your business.
For example, let's look at popular Shopify store, HYGO. HYGO offers a wide range of retail products across a number of popular categories. Even though the majority of their products are already marked down, customers can save even more by buying in bulk.
To achieve this feature, there are a number of different options. First, you can install Bold Quantity Breaks to your store via the App Store. This is a fairly inexpensive app at $20 per month and also offers a free 14-day trial available.
If you're looking for a slightly more enterprise Shopify app, SKUTally is an excellent product information management tool that will allow you to create customer-specific pricing and customer group pricing.
Depending on the app you use, quantity breaks and bulk discounts can usually be applied fairly quickly to product types, brands, collections, or individual products.
Get Real Product Reviews
Quantity Breaks are not the only lesson that you can learn from HYGO. They also provide a great case study on just how powerful product reviews can be as well. They encourage customers to come back and leave reviews which often results in feature photos and written comments from customers.
This is obviously better than just having written reviews or, worse, having no reviews at all. This is a great way to cement your authority and to give your customers a good idea of what to expect when they shop with you. The importance of reviews can never be underestimated because they act as social proof, and this is critical when marketing in the current digital age.
Customer Service Is Everything
While the other websites on our list have provided examples of how to succeed in drop shipping, this next website will be a case study in what NOT to do. Shopolis was a fairly popular Shopify dropshipping website that is currently no longer online.
While there could be any number of reasons that their website has been shut down,  all you really need to do is head to their Trustpilot page for an understanding as to why. More than 98 percent of their reviews are bad reviews.
No matter how great your products are, Shopolis should act as a constant reminder that your customers are everything. If you don't provide your customers with good service and quality products,  you're going to have a short career in the dropshipping industry.
Part of providing great customer service is having a strong handle on your supply chain. Part of having a strong handle on your supply chain is having clear communication with your supplier in regards to delivery times, refund policy,  and exchange policies.
So even if you have a great looking website, an engaged social media audience, and great organic search rankings, bad reviews will kill any e-commerce website.
Start Blogging & Stay Consistent
Another lesson we can learn when it comes to dropshipping is how beneficial a blog filled with helpful relevant articles can be. This is especially the case if you have a niche dropshipping site, like Dog Pawty. As you have probably gathered from the name, they operate in the pet supplies niche.
Dog Pawty doesn't just use their blog to share news about the company, they use it as a tool to attract new customers. Their articles establish them as an authority in their industry and provide helpful information to potential customers.
This is an exceptional way of connecting and engaging with your followers and creating a loyal consumer base. However, a blog also provides many benefits when it comes to SEO too.
For one, creating blog articles that are engineered for specific keywords is a great way to drive new traffic to your site. Every month as people perform searches for specific things like, "Best dog food for a Goldendoodle", your articles will continue to act as a traffic magnet.
Blog articles can also be a great way to build natural links to your website which will help with your organic rankings. When you write great articles, they eventually get noticed and referenced in other articles. Each one of those references will make Google trust your website just a little bit more than it did before.
Give Your Website A Branded Look
There is no denying that the Internet is very much a crowded marketplace today. No matter what you are selling, chances are there are at least 20 other websites that will be competing with you (if not more).  One of the ways you can set yourself apart is by creating a branded user experience for your customers.
For example, let's look at Negative, a Shopify dropshipping website that sells women's underwear. Everything from their logo to their product photos, to their website layout, follows the same brand aesthetic. When you look at their website, you see a company, not just a theme selling products.
This can go a very long way when it comes to building a consistent customer base and brand loyalty. Yes, customers like to feel confident with the store they're using when they shop online, but they also like to feel good about the store they're shopping with.
This is the same reason that brands like Gucci and Louis Vuitton are able to continue to sell their high-end clothing for top dollar. People are not only buying the clothes, but they're also buying the brand and what that brand means.
Establishing your brand identity and brand message can be a game-changer in the dropshipping industry – especially with higher-end products.
Find A Niche With Low Competition
It's 2019 and if you're thinking about getting into Shopify dropshipping, pretty much the only thing that is guaranteed is that there will be plenty of competition. One of the best ways to improve your chances of success online is to identify niches with low competition.
One great example of this is TrendyGoods.
TrendyGoods is a website that sells a wide range of weird but useful products, for example, defrosting trays and pancake flippers. It markets itself as a viral goods website. Rather than simply creating another general store, it identified and developed the viral goods niche, and has been able to build a successful dropshipping business.
TrendyGoods has also grown its presence by staying true to its niche and promoting the "viral" nature of the products it sells. By promoting its most interesting products using Facebook and Instagram ads, it's able to reach an even wider audience through viral sharing.
Compelling and Easy-To-Read Product Descriptions
When it comes to any sort of business, whether a dropship company or not, you need to make sure your product descriptions are clear, informative and, most importantly, effective. No one wants to spend 15 minutes reading a description looking for how much a product weighs, but you do need to provide enough information to fully describe why the product provides value.
While not a dropshipping company, one great example of good product description writing is Method home products. What makes their product descriptions so great? For one, their descriptions are clear but concise. They use bullet points to draw attention to important features. They  give you all of the information that you'll need to
They also provide easy to read lists of ingredients and a wide range of other details that consumers may be curious about prior to purchasing. The goal should be to answer any possible questions that a customer may have with your descriptions, thereby removing potential barriers to conversion.
Growing A Shopify Dropshipping Store
No matter whether you're just getting started with dropshipping or you're a seasoned pro, it never hurts to do a little competitor benchmarking from time-to-time.   You never know what kind of tactics, strategies, or opportunities you may find by looking at what your competition is doing.
It goes without saying, of course, don't just copy them. Make sure to provide a unique take on any content you're creating, and always use original or licensed media.
If you're thinking about starting a new dropshipping store, you can read our full guide to dropshipping here. We provide helpful information on finding vendors, choosing e-commerce platforms, marketing your website and much more.
Thinking of dropshipping office supplies and other business products? OfficeCrave.com is a leading dropshipping supplier for office supplies, office furniture, printers, ink & toner, and so much more. Sign up for our dropshipping program today.