Home Office Ideas To Get You Inspired
Does your home office reflect your personality and facilitate your work process? If not, you're missing out – because the right home office enhances your productivity and lets you customize to your heart's content. Believe it or not, finding great home office ideas does not need to be a chore and you do not need a degree in interior design.
In contrast to your office cubicle, you have the freedom to customize your home office, even if the "office" is a desk and a wall in your living room. With the right tools and our list of home office ideas, you can create a functional and aesthetically-pleasing space without breaking the bank or calling a contractor.
In this guide, we include ideas for small, medium, and large home offices. Since every space has a unique layout, our goal is to inspire you with at least one concept that works for your home and matches your profession, taste, or lifestyle.
Large or Medium-Size Home Office Ideas
If you have a segment of your home that you use as a home office, you can find many ways to customize it to reach your desired effect. Lack of space limitations gives you the freedom to create a distinctive aesthetic. You won't have to worry about buying furniture that serves more than one purpose.
Before deciding on a theme for your home office, browse décor websites to get inspiration. Don't worry about sticking to an idea or following the rules. You have the freedom to mix concepts and add accessories that work for you.
Remember that the purpose of this room is as a space in which you can be productive, so it should be an area that reflects your tastes rather than those of others. Making your office decorated around your own tastes and styles can be a great source of inspiration throughout the day.
If you end up designing a room that you don't like, you can always change it again or re-arrange your accents and furniture to be more harmonious. Have fun with your ideas, and don't be afraid to try out of the box concepts – the sky is the limit when you're personalizing your work space.

Designer: Studio Wills + Architects
Minimalist Home Office Ideas
The simple, avant-garde concept of the minimalist office is all about de-cluttering your space to emphasize work. Keeping your space minimalist doesn't mean bare walls and white colors. The idea is to remove distractions and unnecessary tools, keeping the focus on the equipment that you do use and placing it front and center.
The Traditional Executive
If you are a stickler for tradition and like the heavy and solid theme of a traditional executive office, you can bring that experience to your home. From executive chairs that comfortably support your back to elaborate curtains, accessories, and the signature large wooden table, a traditional home office is still in style. It adds a touch of class to your workspace and reflects a luxurious and solemn atmosphere.
Designer: Shang Yan Design & Guan Pin
The Modern Executive
The modern executive's home office is a space that embraces technology and style. From a sleek office desk that comfortably holds your widescreen PC to charging stations for your tablets and smartphones, every item serves a purpose. Adding a few select art pieces or showcasing your credentials by framing them around the space creates a personalized feel.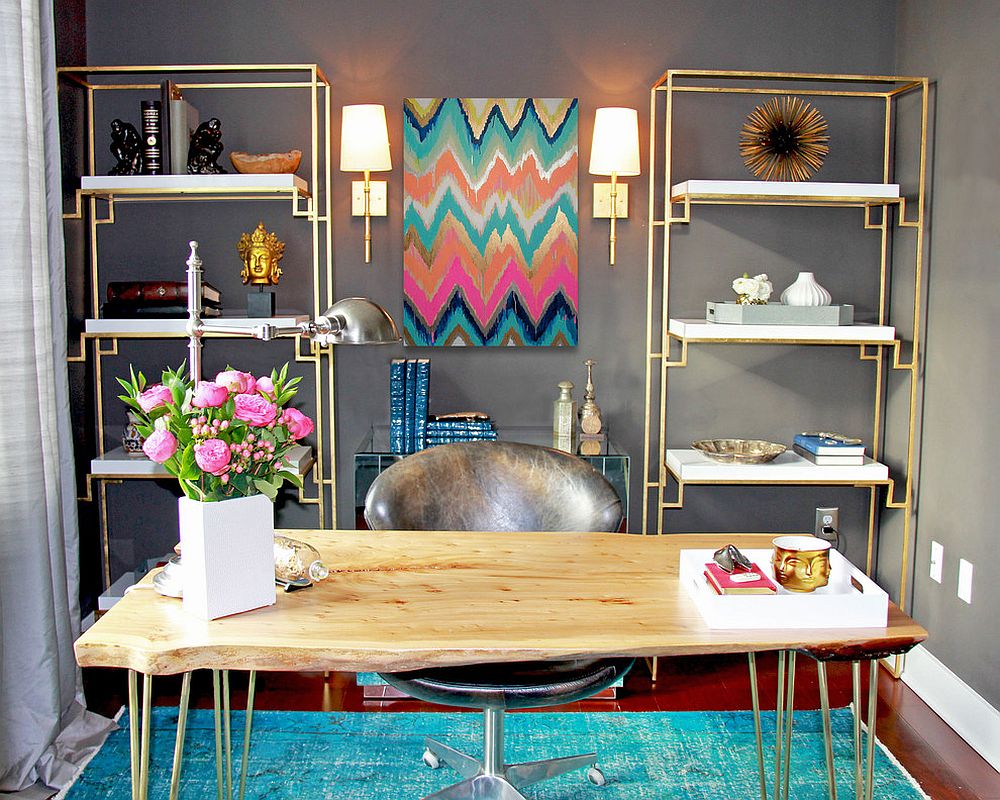 Design: K&L Interiors
Loud and Colorful Home Office Ideas
While some people prefer browsing monochromatic palettes, others want bright and colorful office spaces that exude energy. You can incorporate colorful accessories to add a pop of color to your area, such as plaques, small plants, desk accessories, and paintings. Adding shelves to your walls or painting a wall with "loud" colors will transform the look of your office and infuse it with energy.
photo by: Ruth Eileen Photography
Clean and Bright
If you're a fan of clean, bright spaces that offer little distraction but still have pops of color or a personality, this office type will work best for you. To keep your area clean, less is more when it comes to office furniture and clutter. Also, keep in mind that large, easy-to-wipe pieces work best, and you can use them as a center point for the room.
Designer: Avenue Design Studio
Imitation Work-Sharing Space
If you like the layouts of corporate work-sharing spaces like WeWork, you can use that aesthetic for home office design ideas. The trick is using large office furniture that accommodates more than one person, such as a long bar or work table. This concept allows multiple people to work in one space comfortably and separately.
The Google
Most of us have seen pictures of Google headquarters and how impressive their recreational rooms are. Although you may not have the advantage of space as the corporate giant does, you can still add pops of color with a sleek design to create a space you love to work and play in. One way to do so is by adding quirky yet functional furniture, like bean bags or egg chairs, and placing gaming consoles in the room.
White-Out
White walls, white desks, and barely any color except for a few contrasting lines may provide too little sensory stimulation for some. But for others, it's just right. If you love the clean and bright space that's reminiscent of an Apple Store or Mac, you can create an office that works well with your accessories and gives your room a futuristic feel.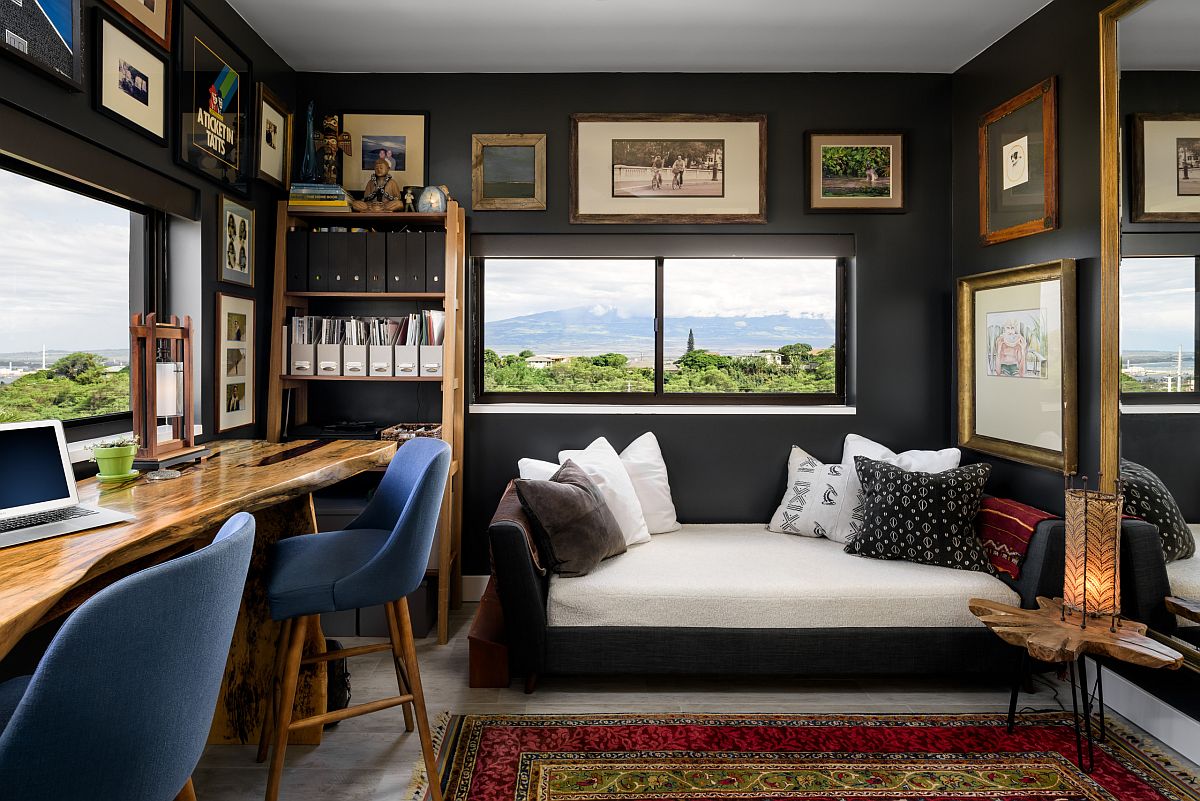 From: Tim Tattersall Design
Dark and Earthy
Fans of dark-themed home offices swear by their calming effect and their ability to boost work productivity. Earthy, natural tones complement dark themes, such as wood shelves and tables. Plants, succulents, and even moss offset the lack of brightness. You can add a small corner water fountain for a visual and auditory effect. Wall decorations and item holders for your equipment should complement the undertones of your office.
Oh, So Vintage
Vintage home office ideas are growing in popularity, and it's no wonder why. We all sometimes get nostalgic for the simplicity of the past or miss its aesthetic and style. Luckily, you can add a vintage vibe to your space by hand-picking accessories reminiscent of the past. Examples include wall clocks, picture collages, fabrics, and accessories that reflect a specific era or theme.
The Nature Enthusiast
When you're a fan of mother nature, it tends to show in your work and home space. Luckily, there are many ways to incorporate a nature theme into your home office. Natural shelving—and tables paired with greens and indoor plants—add a green "vibe" to your room. Don't forget to match containers, pen holders, and even your waste bins to the natural theme of your home office.
The Cultural Affair
Showcasing your heritage and unique culture can make you feel closer to home and add a unique touch to your home office. By adding elements to your surroundings representing your native or adopted culture, you'll add a unique touch to your space that's warm, welcoming, and makes for great conversation-starters on Zoom!
Artist Abode
For the artist at heart, every space in their life reflects their love of beauty and color. A home office that incorporates a professional yet artistic theme is possible when you have the right tools. Try to mix it with traditional and modern elements and a few signature pieces. A creative home office exudes personality and reflects your originality and imagination.
The Traveler
If you find yourself daydreaming about beaches, planes, and exotic dishes from around the world, you can bring that passion to your office space. One way to get an immediate wanderlust boost is by adding a globe in your office. Accessorizing with travel-themed notebooks, pens, and even small accents can bring a little of the world into your home office.
The Bigger-Is-Better
If you don't mind splurging on elaborate furniture, accessories, and office equipment, you can have a premium work experience from home. Reflect your "go big or go home" attitude with oak desks, sloping couches, elaborate artwork, and eye-catching sculptures and accessories. Visitors and clients will love your concept, and you'll have a lot to talk about with friends and colleagues.
Small Home Office Ideas
When you're working with a small home office space, you have more limitations. Decreasing clutter and maximizing the use of your room will increase productivity and keep your equipment nearby. Efficiency and comfort are possible in a small office, but establishing the right location for some furniture might be tricky.
Luckily, manufacturers are making space-efficient furniture that works well with most restricted spaces.
If you have a small desk, utilize the power of shelves. Modern shelves serve a decorative and functional purpose. With a few accents and adjustments, they boost your efficiency and help you organize the items you use in one place.
One item we love for small home offices is the Safco Mood Bookcase. With four shelves and anchors to keep it steady, it holds office supplies, accessories, and books, allowing easy access. With its elegant gray color and sleek design, the shelf is a perfect addition to small home offices and won't take up space.
Home Office Ideas for Him
Masculine-leaning offices aren't challenging to construct, given the right tools and office accessories. To create a stable and professional touch, think of compartmentalizing your items and adopting a dark color scheme. From shelving to accessories, every facet of the room should reflect character and efficiency.
Add a mobile drawer near your office desk to reduce clutter on visible surfaces and keep documents in one place. The Bush Business Furniture Series C2 Drawer Mobile Pedestal could be a stylish and useful addition to your masculine-themed home office. The drawer comes in black, white, or wood colors and blends well with most masculine color tones.
Home Office Ideas for Her
Feminine home office ideas are more versatile than masculine rooms because of the broader palette of colors and themes. To narrow down your choices, think of your work and what accessories make it easier.
For example, if you are a researcher and need storage space for your books, the HON 101 Bookcase is a non-obtrusive place to keep them without compromising style. If you are into fashion and style, you can create a runway-themed room with decorations or art that showcase your favorite brands or designer.
Home office ideas that express a feminine character include bright or muted tones, soft textures, and natural elements. You can express your daily mood by adding and removing small accents that can have a significant impact on the feel of the space.
Home Office Lighting Ideas
Ask the best artists and photographers, and they will mention how important lighting is when it comes to beauty. You can find a range of different light sources that you can incorporate into your room. From headlights to lamps, the possibilities and customization opportunities are endless. One piece of advice is to determine beforehand the tone of the light and how it affects décor.
Harsh, white light such as the kind that schools and colleges use are perfect for people who have to read and write. However, they make furniture look glaring and make flaws more visible. Softer, yellow-hued tones make your room look more aesthetically pleasing but make visibility difficult at night.
Try to strike a balance between white and yellow hues and alternate them throughout the room. In addition to natural light, artificial light can enhance the feel of your home office, so vary the positioning of your lamps to get the best effect.
Your Home Office Is About You
Choosing the right theme for your home office isn't always easy. However, when you know what type of aesthetics increase your production and add flair to your space, you won't regret the effort. Since each person has a unique perspective on how a home office should look, there's never a right or wrong approach.
The idea is to love the space in which you work and make it pleasing for you. With a little bit of creativity and the right pieces, your home office can become an extension of your personality as it brings out the best of what your imagination conjures.
Don't be afraid to have fun with your concepts and add functional and stylish furniture and accessories that help you work better. Whether you have a large budget or only want to make a few changes, even a simple revamp can completely alter the "vibe" of your home office.