7 Computer Desks That Are Sure To Turn Heads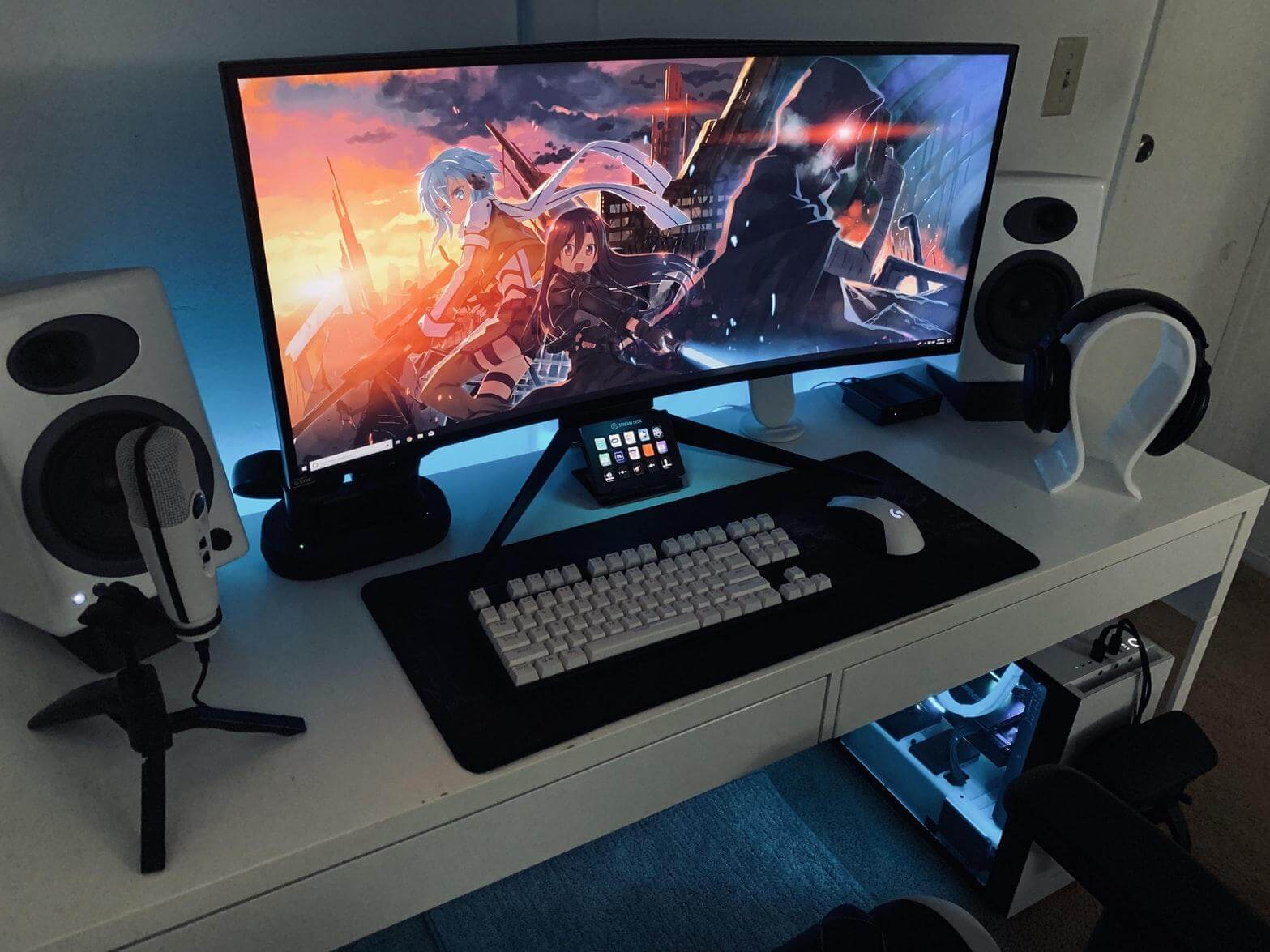 For many people, working means sitting in front of a computer desk. That's why it's important to choose the right one to ensure comfort, durability, and a productive work day.
Choosing the right desk is also more than just the best aesthetics. Certain desks, like standing desks, can also prevent back pain and other health problems. However, not every computer desk has to be boring. There are so many types that have the style and efficiency you need to have the best work (or gaming) day! We've put together a list of 7 awesome computer desks that you need to see before making a purchase.
Gaming Desks
Gaming desks must be built to withstand the weight of your computer, gaming consoles, controllers, joysticks, television, and more. The best ones tend to be both ergonomic and durable. This furniture can be in many different materials like wood, which can be folded and are good for portability.
This desk has plenty of room for a large desktop, speakers, a microphone, and even headphones. It's built from sturdy materials so you can trust that your furniture won't give in. The actual computer is stored under the desk to maximize the space on top, and there are even drawers to keep other gaming related items you may need.
To pick the right gaming desk, take into account the consoles you have and the equipment you want to store. Make sure you pick the piece spacious, sturdy, and stylish enough to accommodate your needs for a long time.
A simple desk with plenty of space is exactly what any gamer needs to stay comfortable for hours on end.
Executive Desks
Executive desks are crafted specifically for the office. These desks have lockable storage that is great for keeping sensitive materials in and are often large to keep a lot of office supplies on and inside of.
This desk specifically is made of wood, so it has that beautiful and professional finish. There are several large drawers to hold everything you need from documents to every office supply. One of the most unique parts of this piece is the steel support legs. They differentiate this desk from every other one on the market. This beautiful executive desk is timeless and has a high sense of class.
A Modern Take on Desks
This desk is simple and straightforward but makes a statement. It has the legs that look like a picnic table, but it also has plenty of space on top so you can use your big desktop. This space allows you to put on a few decorations too, like plants or lamps shown here.
While this choice doesn't have drawers or as much storage space, if you're a student and primarily do work on the computer, this desk is perfect and worry-free. Simple, sturdy desks like this one are perfect for your home office.
Stylish Storage Desks
Desks don't have to look old or boring, and neither do they need to be cluttered!
This beautiful piece of furniture has integrated Bluetooth speakers for a great listening experience when trying to focus on homework and more. There are several compartments on the desk that opens up with plenty of space to store supplies like pencils, pens, staplers and more. Instead of the big drawers on the bottom of the surface, the ones on the top help give the furniture a more modern look.
The desk space available on top of the compartments is definitely enough for a large computer and any other materials you may need. Keep a cozy and tidy workspace with one of these desks with ample storage room.
Standing Desks
While most think of a desk as something you sit in front of, this isn't necessarily true. Standing desks are great tools to combat sitting too much, something that can seriously negatively affect your health. Sitting often makes it hard to burn more calories, and only promotes weight gain and obesity. All of this sitting has proven to be a big issue for office workers, where standing desks have definitely gained popularity.
A lot of modern versions, like the one shown above, are adjustable. As soon as your legs get tired or you're ready to stand up, you can adjust your desk to your liking.
Back pain is a major complaint of those that have to sit all day in an uncomfortable office chair in front of a boring desk. Many studies have shown that using a standing desk combats the back and neck pain caused by prolonged sitting.
Besides the several health benefits, a standing desk helps to improve your mood, energy, and productivity overall. Standing up helps to decrease stress and fatigue, and it increases vigor. Using this innovative piece of furniture is way more likely to improve your productivity rather than hinder it, especially after you are used to your new setup.
So, next time you're in the market for a new work table, buy a standing desk to maximize what you get done.
Transforming Desks
If you're interested in a standing desk and its benefits, but you don't want to invest in a whole new desk altogether, this addition to your regular desk might just work for you.
Instead of replacing your furniture, this piece sits on top of the desk and holds your computer and other devices. The holes and slits throughout the piece are great for those pesky cables and to hold your phone or tablet.
All you need to do is compliment your current working space with this, and you've completely transformed it into a standing or sitting desk as you see fit.
Slim Desks
If you're crunched for space, you should consider something slim that can hold all of your essentials.
The desk shown above has two levels, with the higher one at the ideal level for monitor use. The lower level of the desk slides in and out, holding your keyboard and mouse. When not using the desk, all you have to do is slide the lower level in and you have a fully functional desk that takes up a fraction of the space a regular desk would.
This specific piece is made of sturdy metal, so you know it'll be long-lasting.
Bonus: An Office on Wheels
This desk is definitely not like anything you've seen before!
When you open what seems to be a cabinet, there's actually a whole office in there. This space is equipped with room for a computer, plenty of storage space, and shelves. You can pull out the computer space to make more room, and whenever you're done for the day, all you have to do is pack up your office. The whole piece folds back up into what looks like a typical cabinet.
This workstation is completely mobile, unique, and one that's definitely sure to turn heads.
Finding The Right Computer Desk
While sitting in front of a computer for 40 or more hours a week, you need to take your comfort and health into account. Sitting all the time is not good for you, so it may be time to upgrade to a standing desk so you can get those bursts of energy and increase your productivity. Studies have even shown that standing up after lunch can decrease your blood sugar levels and reduce your risk of heart disease, so it's time to make the switch.
If you're looking for the right piece of furniture for gaming, make sure to get something sturdy and spacious to hold everything you need and not cause a lot of clutter. Pick something with holes situated in the back to organize your cables. Remember, your electronics are expensive and heavy, so you don't want a cheap desk or table holding all of your belongings.
To truly pick the right desk for your home office, prioritize what you need space for. If you need something portable for travel, then pick something that folds and is lightweight. If you need a good desk to work at home, it might be time to choose something a bit bigger with more storage space and organization. For something truly unique, try something totally new like the office on wheels desk, so you can have it wherever and whenever throughout the house.
The perfect desk is based completely on you and your needs, so look outside the box when updating your workspace!